Empowering the Voice of  Sexual Assault Survivors 
Stories of Hope and Healing
The empowered voice is a strong force for the empowerment of women who have been silent for years and are reclaiming who they are at the core.
We are a force to be reckoned with!
We are Seen and We are Heard!
Shorten your healing journey
TRAVELING Exhibit & Symposium
Learn About The Empowered Voice Traveling Exhibit & Symposium
SHATTER THE SILENCE
Women have been silenced 
for so long that now when called to speak out and model for others, we're not sure how to hold vulnerability and yet share our story in a powerful way.
Reclaim your creativity and accelerate your healing journey through understanding who you really are at the core and the gifts you bring to this world.
Creativity Unleashed will awaken your creativity and shorten your healing journey so you will:
Know who you are at the core; your strength, your resilience, your courage and the gifts you bring to the world.
Feel comfortable enough in your skin to state your needs and desires comfortably.
Shatter the silence and share your healing story through creating an artist book or your best form of public expression – for your own deep healing and for that of others.
STORIES OF HOPE & HEALING
The Empowered Voice Exhibit & Symposium is a public exhibit of art, movement and verbal expression by survivors of sexual assault.
Stories of hope and healing are shared through live and video performances of movement, music, art and poetry from around the country.
The traveling exhibit is meant to expand public awareness in an effort to eliminate sexual abuse in our lifetime while creating a safe space for survivors to be seen and heard.
The Empowered Voice Traveling Art Exhibit is now online.  Voices Heard – the interactive e-Zine that empowers sexual abuse survivors to shatter their long held silence through visual art, story telling, poetry, dance, or other expressive arts. Voices Heard incorporates all the art, performances, and post exhibit interviews with the artists involved.
JOIN OUR COMMUNITY BELOW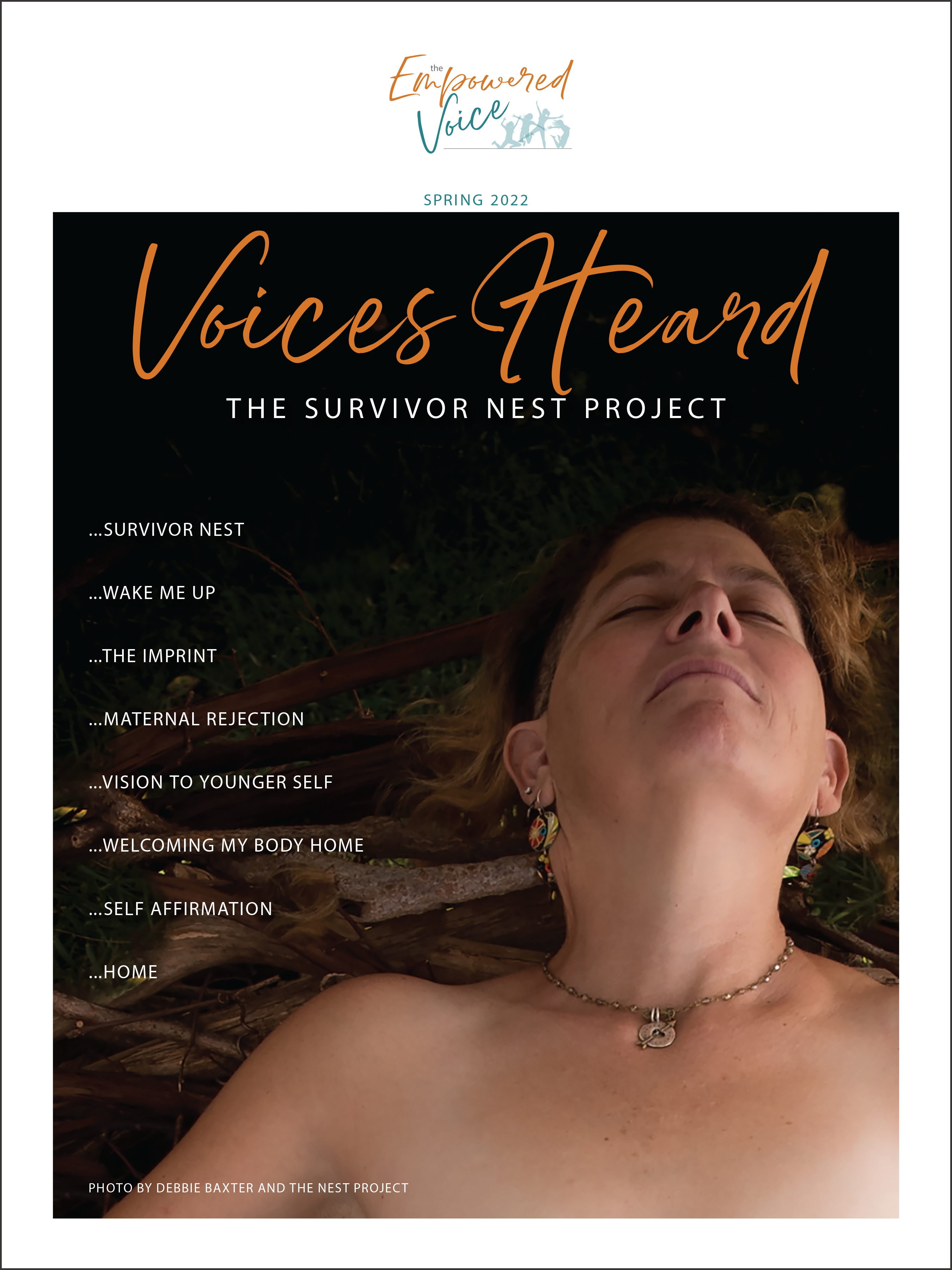 We Did It
We printed the very first Voices Heard!
We dedicated the whole Spring 2022 issue to the Survivor Nest Project. Contributors include the nesters, collaborators, allies and community members involved in the project.
The photography, poetry, stories, art — mothers, daughters, friends, all of it so beautiful and compelling. Tears came to my eyes over and over as I read these incredible stories of healing in the nest. Healing survivors yes, but also healing each person who took part in The Survivor Nest Project. Each story different and yet the result is the same — feeling whole again. Each contributor from bystander to survivor shares their story with you in this most compelling issue of Voices Heard.
It's Working
Here's what one contributor says about Voices Heard..
"I could write, in my NJ outlandish Chutzpah, great tremors of accolades. But the nest gave me a real opportunity for my soft underbelly, my deeply sensitive core, to emerge safely and publicly. So I will say that I have no words. I have feelings.
Looking through the virtual magazine I felt DEEPLY and THOROUGHLY that I am at last real and on the earth, seen and known. I am safe to come out and play. I am safe. As it is said in 12-step parlance ...more will be revealed. I hope so. I'm planning on it.
I thank you for your practical skills, the impeccability of your artistic vision and eye. Yes. But it is your soul that I dance with even though we are some thousands of miles apart. To know what you are called to do. To answer the call, and to do it with everything that you are in such a beautiful manner is the work of Goddess coming through you. That makes you a Goddess, too. Something the ancient wise people understood quite well. I hope you do too.
In deep gratitude, love, purpose, and delight,"   Barbie Kristina
You can buy this stunning limited edition copy of Voices Heard  now for only $30. Proceeds support the printing of this and future issues of this exquisite magazine.
We're Shattering the Silence of Sexual Abuse
Join us in our mission to shatter the silence and empower sexual abuse survivors.
You'll receive Voices Heard, the quarterly interactive e-Zine (magazine) that empowers sexual abuse survivors to shatter their long held silence by sharing their story through expressive arts (visual art, story telling, writing, video, poetry, dance, or other).
Sharing their story empowers sexual abuse survivors and helps them heal.
Seeing it and hearing it helps others heal as well.
Claire O'leary emanates a warmth that's immediately evident. But when she talks about being a 58-year-old woman coming to terms with her experiences as a five year old, her gaze goes adrift…
Host Megan Tackett speaks with Claire O'Leary who curates the inaugural EMPOWERed Voice traveling exhibit, on display at the Third Street Center in Carbondale Colorado.
In this interview and panel with NAASCA Claire O'leary shares her story of abuse and recovery. She answers questions and shares why she became a Survivors' Advocate.
A panel discussion on childhood sexual abuse at Colorado Mesa University on Wednesday evening offers the public a glimpse into what can be a decades-long journey for victims.
Sexual assault silences.
The oppressive silencing we experience as children can reach well into adulthood, and in the process, we lose touch with our source of power, our truth – our voice.
5 out of 10 women and 6 out of 10 men have been sexually assaulted as a child.
The disempowerment that happens as a result is devastating. Silenced by their perpetrator, survivors of sexual assault lack self esteem, are often unable to share their needs and desires with the ones they love most. They feel unseen and unheard in their lives, as though they have no voice.
The silence is so destructive that it creates mental, emotional and physical illness long into adulthood.
Empower Survivors
We empower the voice of survivors through expressive arts and speaking.
We ignite their inner power so they become strong,  confident women who step into authentic relationship with their highest Self and are heard NOW!
Expand public awareness
Expand public awareness around sexual assault in an effort to eliminate sexual assault in our lifetime.
We are changing the culture of America to one of knowledge and compassion through personal stories, poetry, movement, music and art with the Empowered Voice Traveling Art Exhibit & Sypmosium and online.
Active Advocates
Build a body of outspoken advocates who are excited to carry on the message the Empowered Voice.
mutual respect
Creating a culture of mutual respect means listening. It also means creatiing respect for self and others from a young age.
The Advisory Board
It takes a Village. In an effort to expand our services we are creating an advisory board. Join us in eliminating sexual assault today.